The installation dimension of the three-stage telescope lifting column is only 560 millimeters in the retracted position, with a maximum stroke of 650 millimeters and a maximum lifting force of up to 3,000 N per drive. The 1,210 millimeters that can thus be achieved in the extended position covers the valid standards of workplace ergonomics in many applications of assembly workstations, fixtures, control rooms, and much more.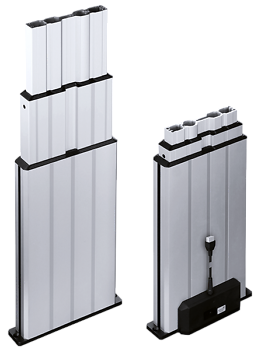 Available as synchronous package
Plug & Work (initialized at the factory)
Lateral mounting groove in the outer profile
Force de traction max.
3'000 N
Max. travel speed
8 - 16 mm/s
Degree of protection
IP30